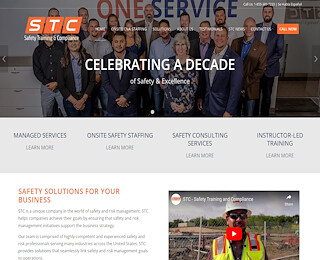 Safety is a major concern for every company. Regardless of the type of industry you are in your company must comply with OSHA and other safety laws and guidelines. You are responsible for providing a safe work environment for everyone in your employ. Safety concerns fall into one of three main categories including environmental, health and safety, EHS. EHS services in Dallas, Texas provide a wide range of training support options to ensure the health and safety of your team.
EHS Services in Dallas, Texas
While EHS services in Dallas, Texas are important for all types of companies they are particularly essential for industries that might be considered dangerous. You need to provide your employees with the training they need to safely operate machinery and handle hazardous materials and use equipment. A lack of safety training could result in accidents, injuries and fines due to non-compliance.
If you want to make sure that all of your employees are properly trained according to current industry standards the best option is to get help from a qualified company that provides EHS services in Dallas, Texas. At STC Safety Training & Compliance we offer high quality safety management services to meet the needs of your business. We offer training courses to ensure OSHA compliance along with onsite services and managed solutions.
Safety Training Solutions for Every Business
At STC we offer comprehensive training solutions for all types of businesses. Our services are essential for industries such as agriculture, aviation, construction, entertainment, insurance, legal, and manufacturing, transportation and oil and natural gas companies. When you partner with us we will review your specific needs and provide you with the options that will improve safety in the workplace.
When you don't have the time or resources to devote to regular training we can help. Our team consists of experienced safety specialists who are available to assist you with every type of safety training concern you may have. We are dedicated to helping our clients achieve a safe workplace. The safety of your employees is our number one priority.
STC has safety options to fit every need and budget. We are available to provide any type of safety training you need. Our safety training courses are ideal for all your employees, but we can also offer on-site training for your special needs.
We also offer complete turn-key safety management solutions for any size project you have. We will handle all of the safety issues from start to finish and provide our own safety equipment when needed. Our safety experts are on the job to make sure that your workplace is OSHA compliant and that all employees are aware of proper safety procedures. We work with you to take care of all your safety concerns. You can trust us to properly ensure job safety and keep your company free from compliance issues, fines, accidents and injuries.
Contact STC Safety Consultants to learn more about how we can help improve your company's safety and minimize the risks due to workplace accidents.
Ehs Services Dallas Texas
S T C Safety Training & Compliance
9723473377
2600 Dallas Pkwy. Suite 240, Frisco, TX 75034
View Larger Map