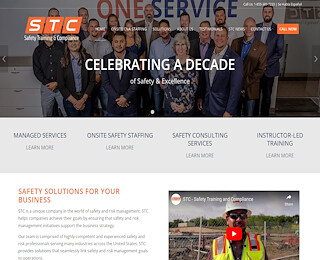 Mining is one of the most dangerous professions in the world. Miners are faced with serious challenges on a daily basis. Whether working underground or at the surface, mining is difficult and presents many different and complex safety issues for workers. Mining companies need to ensure that their workers are safe and must provide them with safety training to ensure that they understand how to keep from harm and what to do if a problem arises.
Companies need to be in complete compliance with the Mine Safety and Health Administration, MSHA, laws. STC Safety Consultants provides high quality MSHA training in Dallas. We offer complete MSHA compliant courses that give employees the safety details they need to know before they begin work. The purpose of training is to provide workers with the information necessary to stay safe on the job, prevent accidents and respond to incidents.
New Employee MSHA Training in Dallas
New employees need specific training that is customized to meet their requirements. Workers should complete the course before they are allowed to work in the field. Safety training courses for miners provide a great deal of information. Workers need to learn quite a bit of details about how to maintain both personal safety as well as the safety of the entire crew. If one crew member makes a mistake it could cost the entire crew their lives.
Mining companies have a lot of exposure and must be vigilant in making sure that all employees are trained before they are allowed to start work. The best way to keep safety a top priority is with regular MSHA training in Dallas. Your employees are counting on you to make the workplace as safe as possible. STC Safety Consultants understands your concerns and offers a variety of safety training options to fit your needs.
Refresher Courses
Employees can become lax when it comes to safety issues, especially if they have been doing the same job for a long period of time. For this reason it is a good idea to provide refresher courses for all employees on an annual basis. Employees will be reminded of the proper safety methods they need to use while working as well as provide them with any new updates that are part of MSHA guidelines.
Keeping your employees properly trained isn't just a good idea, it's a necessity. STC Safety Consultants offers a wide range of courses including MSHA training in Dallas. Our courses are always complete and up-to-date with the latest information to ensure MSHA compliance. Whether training new workers or giving current workers updated refresher courses, our training provides everything you need.
At STC Safety Consultants we also offer other safety-related services. In addition to safety training courses we also provide on-site training as well as managed safety services. Our safety solutions are designed specifically for your type of business. We cater to a variety of industries including oil and gas. Our number one goal is to help you provide a safe workplace that will prevent accidents and save lives. Learn more about our high quality safety training options for your company.
Msha Training Dallas
S T C Safety Training & Compliance
9723473377
2600 Dallas Pkwy. Suite 240, Frisco, TX 75034
View Larger Map