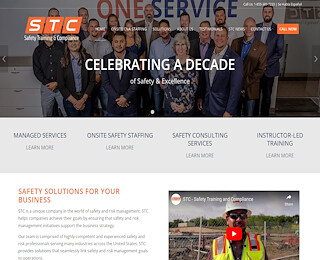 Safety issues are a concern for every company in the country. All businesses must conform to the safety standards set forth by the Occupational Safety and Health Administration, OSHA. OSHA operates under the U.S. Department of Labor and was formed in 1970 to ensure that workers have safe and healthy working conditions.
There are extensive rules and guidelines that must be followed in order to keep employees safe in the workplace. OSHA compliance training in Dallas makes sure that employees understand and abide by safety rules.
Creating a Safe Work Environment
A safe workplace starts with knowledge. Employers and employees all need to know OSHA rules and how to conform to them. When an employer is found to be in violation of OSHA rules they will be fined and work might be temporarily stopped until the safety problems are resolved. OSHA compliance training in Dallas gives employers the information they need to create a safe work environment.
When you fully understand safety rules you can develop company safety practices and plans that will accommodate them. Regular employee safety training is among the most important of all training because each and every worker contributes to the overall safety of the company.
OSHA compliance training in Dallas will cover all of the necessary areas of concern to make certain the rules are followed. Special laws are in place for some types of industries such as construction, shipyard work, long-shore and marine work and more.  Standards are in place for working on ladders, stairways and in wet conditions along with many others.
Training for Supervisors and Managers
All supervisors and managers who are responsible for employee safety should take OSHA compliance training in Dallas. Training gives employers the knowledge they need in order to make sure that everything they do meets federal regulations.
It is important to note that a company could be held liable for a serious employee injury if non-compliance with safety regulations led to the accident. Not only do you want to protect your company from unwanted legal actions but you also want to keep everyone safe from harm.
OSHA has spent years determining the best safety practices in a variety of workplace situations. Many of these safety measures can be easily implemented at your company. Some of them take time to put in place while others are just a matter of training employees on a new way of doing things.
STC Safety Consulting offers a large selection of training courses including OSHA compliance training and more. Our training classes are comprehensive and designed to give employers and employees the latest and most useful information possible. We design our courses in accordance with current OSHA standards so you can be sure that you are learning the latest information possible.
Safety training for employees helps give them continued awareness of the safety precautions that must be used in certain situations at work. If a situation is unsafe an employee should bring it to the attention of the supervisor. Contact STC Safety Consulting today to schedule a training course today.
Osha Compliance Training Dallas
S T C Safety Training & Compliance
9723473377
2600 Dallas Pkwy. Suite 240, Frisco, TX 75034
View Larger Map