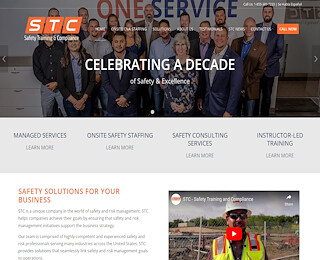 Safety is a major concern for every company but it is particularly important for certain types of industries. When you want to ensure that all of the safety procedures are handled properly and that all of the local, state and federal safety laws are followed it is helpful to get help from a safety staffing company in Salt Lake. A safety company has the experience and expertise to handle a variety of safety concerns over a number of different industries.
High Quality Safety Staffing Company in Salt Lake
There are a number of different project environments where a safety staffing company in Salt Lake can be of great assistance. Some of the most common areas include new construction, shutdown of manufacturing, outages, renovations, demolitions, owner or contractor controlled insurance programs and insurance captives. These are all areas where a safety staffing company in Salt Lake will help.
Safety staffing provides complete turn-key solutions that can handle all aspects including payroll and taxes, benefits and all of the tools and equipment necessary. The staff is made up of professionals who are trained and experienced. They will handle all of the safety needs for any of your particular projects. As a turn-key solution you won't need to worry about additional overheads or recruiting costs. Simply turn over the safety to us and we will handle it completely from start to finish.
Choosing a Safety Staffing Company in Salt Lake
There are some things to keep in mind when you consider hiring a safety company. First and foremost you want to ensure that the company has the experience to handle your needs. At STC Safety Training & Compliance we have experience in many different industries including agriculture, aviation, construction, entertainment, insurance, legal, manufacturing, oil & gas, transportation and general industries.
There are some advantages to hiring a safety company for your project. Safety professionals are experts at ensuring safety and are able to view your workplace with that in mind. Because they are not actual employees they are better able to provide the guidance that can only come from an outside expert.
Our professional team have had years of training and have spent countless hours providing services to companies across the country. We match our on-site safety team to your specific needs to ensure that you always receive the best and highest quality results. We work hard to make sure that our team is prepared to handle your requirements. We will provide the tools and equipment that is necessary as part of a turn-key solution.
At STC Safety Training & Compliance we are dedicated to the mission of preserving human life. We have a goal of creating a workplace without incidents. Our values are instilled in our employees and they carry them with to your job site. Our values include authenticity, honesty, integrity, humility, passion, effectiveness and teamwork.
Our employees are dedicated to providing you with the best safety processes and procedures available and will always make sure that safety is their number one priority. Contact us today to learn more about how we can help with your next project.
Safety Staffing Company Salt Lake
S T C Safety Training & Compliance
9723473377
2600 Dallas Pkwy. Suite 240, Frisco, TX 75034
View Larger Map