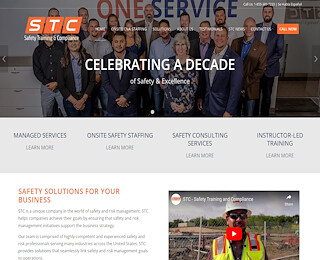 Safety is one of the top priorities in any company. It is up to you to ensure that your company provides a safe working environment for all employees. You need to keep your team up to date on all safety procedures and make sure that everyone knows how to handle equipment and materials in a safe manner. Regardless of your industry, you need to adhere to the strict safety standards of OSHA as well as MSHA and DOT. Safety training consultants in Dallas will help you improve your safety record while meeting all of the legal guidelines.
Safety Training Consultants in Dallas
Safety training courses are at the heart of every comprehensive safety program. Courses will help provide your employees with the information they need to do their jobs in a safe manner. Regular safety training gives your employees confidence to work carefully and to abide by the safety rules and regulations that you have in place. When you require employees to attend safety training it ensures that they understand the importance of safety in the workplace.
When you develop a training program for your company it is helpful to include monthly training for all employees. The time employees spend in training will be more than repaid with better safety results. Employees will become more aware of the importance of safety and will begin to be more careful when they perform their everyday activities.
Putting Together a Program That Works
There are many different courses that are offered through safety training consultants in Dallas. It is important to make sure that all of the important safety aspects of your particular industry are covered in a comprehensive program. Your employees should be scheduled for regular training sessions based on their specific needs in the workplace.
The best time to start a training program is before you experience an accident or safety violation. You don't want your company to be liable for a serious accident because you failed to provide adequate safety training. Proper safety training will minimize the likelihood of an accident and will also help employees know what to do if an accident occurs to minimize the damage.
Partnering With Experienced Safety Training Consultants in Dallas
Experienced safety training consultants in Dallas will work with you to assist with all your safety training needs. A complete program can be developed that will be customized to your company's particular requirements. At STC Safety Consultants we offer a wide range of options to help you train employees and improve safety at your company.
Whether you need one-time training courses or specialized on-site training we are available to help. We have the experience and expertise to ensure that you will improve your safety standards and meet all of the state and federal safety requirements. We will help you keep your employees safe and give you the peace of mind that your workers will perform their tasks as safely as possible. Contact STC Safety Consultants today to learn more about our safety training options.
Safety Training Consultants Dallas
S T C Safety Training & Compliance
9723473377
2600 Dallas Pkwy. Suite 240, Frisco, TX 75034
View Larger Map